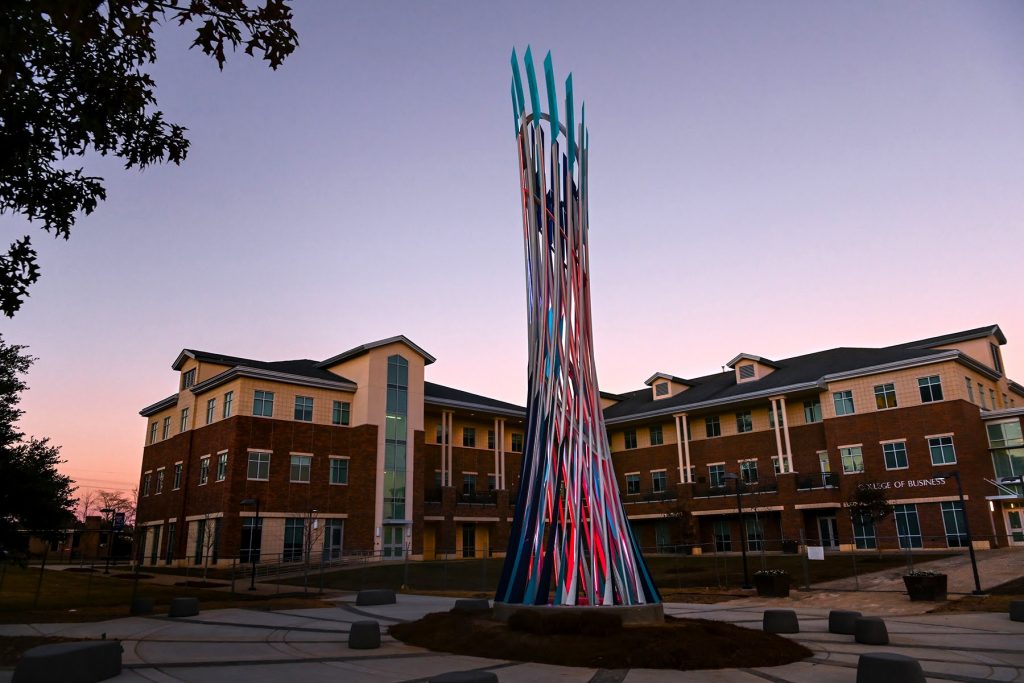 The night before their first classes begin, Louisiana Tech's freshmen walk to a campus fountain. There, a gowned woman kneels above the water. Each student tosses in a coin, and at the end of their Tech tenure, this woman—Lady of the Mist—returns the coins in the form of medallions. The Lady of the Mist was a freshman once herself, sketched out by Art & Design professors Elizabeth Bethea and Mary Moffett and installed in 1938. A fire took the Old Main building in 1936 and the campus center moved east. The Lady of the Mist filled the void the building left. Soon she developed her own relationship with Tech.
Now, artist Curtis Pittman imagines the lady's next-of-kin has come to campus. He calls his newly installed, 45-foot-tall sculpture Aspire. Bolted in place on November 11, 2021, the sculpture sits amidst a grove of noble oak trees, which has been planted between Keeny Hall and the College of Business by landscape architects CARBO. Aspire is funded by of Louisiana's Percent for Art program, which requires state construction projects costing $2 million or greater to reserve one percent of funds for the acquisition and installation of art.
What does public art do?
As a public artist, Pittman creates large-scale sculptures to fill unused but highly seen spaces. Ideally, the sculptures stimulate curiosity and conversation for the people walking past. With Aspire, Pittman and his team created an illuminated sculpture—you'll get a different view depending on what time you pass. "It's one thing during the day, and another at night," said Pittman. He studied architecture at Penn State. His background aids his artistry. "I understand urban design and how to make these unassuming, in-between spaces into spaces of magic." He credits his fellow team members—Harold Combs (fabrication), Nathan Jenkins (creative technologist), Alan Curtiss (lighting technician), and Grummel Engineering (structural engineers)—with the interdisciplinary collaboration that realized and improved on the vision he pitched to Louisiana Tech.
The 21st Century Campus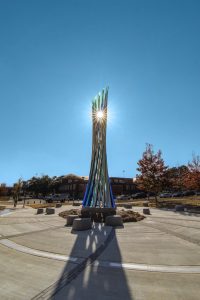 With our partners at Ashe Broussard Weinzettle, we've worked with Tech for more than two decades on the evolution of their campus, from the Enterprise Campus Master Plan (with HGA and Sasaki) to suites of student housing and the state-of-the-art Lambright Sports & Wellness Center. Recently, our team has worked with CARBO Landscape Architecture on the greenspace that replaces parking lots with pathways and trees. We also continue to construct student housing, to accommodate a growing student body.
Aspire is a new tradition for Tech, another piece to the puzzle as the "21st Century Campus" comes to life. It's bright and dynamic, reflecting the spirit of transformation and innovation alive each day on campus. As he began to work with Tech, Pittman was impressed that his collaborators were not facilities personnel, as has been the case on similar projects, but the university president himself. "He's rebuilding this campus," said Pittman. "He's making it more urban, with trees and walkways, moving nasty parking lots off to the side so people can engage with the landscape. He was engaged every step of the way. He's a pioneer for Louisiana Tech."
Follow along with Curtis Pittman's public art at curtpittman.net.