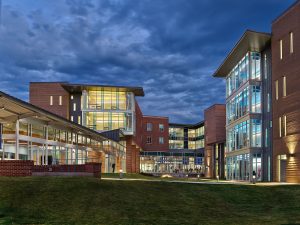 Louisiana School for Math, Science, and the Arts ranks among the World's Best Boarding Schools, according to Fortune Magazine. The award-winning schools are chosen by Fortune and industry ranking provider Statista, with an independent survey sampling 700+ participants and including 2,000 evaluations.
LSMSA, which won the Blue Ribbon Award in 2020, is the only school from Louisiana in this year's list. "This honor is a result of years of hard work not only from our current administration, board, faculty, and staff, but also from those who paved the way so our amazing new residence hall could come to fruition," LSMSA Executive Director Dr. Steve Horton told the Natchitoches Parish Journal. "For forty years our LSMSA community has been well aware of what a gem the Louisiana School's unique living/learning environment is, so we're thrilled to have this opportunity to represent our state and our sister schools on an international level."
With our frequent partners at Ashe Broussard Weinzettle Architects, we designed the new Living Learning Commons for the school. The four-story facility houses 360 students and support staff and is organized into 10 "neighborhoods," with students living in four-person suites. The state-of-the-art residence hall is a dream nearly forty years in the making. Due to lack of necessary funds, a temporary housing agreement with neighboring Northwestern State University stretched on for decades, from the high school's first graduating class in 1985 until August 2021, when the Living Learning Commons opened.
We know firsthand the passion and investment from school and state leaders that have made these new amenities possible. See inside the Living Learning Commons here. Photos by Alan Karchmer.