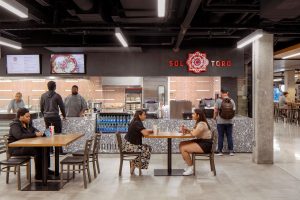 Foodservice Equipment Reports magazine has an exclusive look at the Purdue Memorial Union renovation. Our architects Darrin Badon and Liz Spedale spoke to writer Janice Cha about our role in the $47 million renovation, a collaboration with Purdue, Aramark, and Workshop Architects.
"Our overall philosophy was to create a food hall-type space, with the atmosphere, excitement, variety, freshness and quality of foods," said Darrin.
The article explores the development of the high-end food hall atmosphere, equipment highlights, our challenges with low ceilings and columns in the basement-level space, and the strong communication needed to work with multiple contractors and partners.
Thanks to Foodservice Equipment Reports for the interest and insight into our foodservice design work. Learn how it all comes together here.