Before a building comes to life, we communicate its future in workshops and meetings, renderings and 3D site plans.
Sometimes a different image tells the story: today, it's a purple steel beam glinting with gold signatures. The beam sits in the middle of a former ballroom, hosting one crowd, with many to come, as the Huey P. Long Field House comes roaring back to life.
Built in 1932, the Field House served as LSU's student union for three decades. The building was home to a post office, a ballroom, and the one-time largest swimming pool in the United States, where all students were required to pass a swimming test.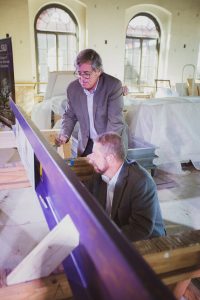 The beam signing ceremony gathered together the supporters, design team, and future users of the Field House, which is due to be completed in July 2022. Tipton Associates has worked with LSU for years to find the best future for the Field House. With Remson Haley Herpin Architects, we have designed a state-of-the-art renovation and addition for the iconic campus building, which will house the School of Kinesiology, the School of Social Work, a wellness center, a ballroom, and outdoor classrooms and social spaces across the expansive campus lawn, which pays homage to the former pool. Through the floor-to-ceiling windows, attendees could watch general contractor Arkel Constructors hard at work on this high-profile project. The work never stops!
On display were photos of the historic building, in use over the decades, as well as renderings to give a glimpse ahead.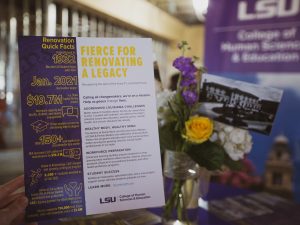 The ceremony was led by LSU President William F. Tate and Dean of the College of Human Sciences & Education Roland Mitchell. Mitchell was effusive in his praise of the ongoing project. The impact on LSU's offerings will be substantial. "There will be an outstanding kinesiology program, an outstanding social work program, and a pretty great tailgate as I understand it," said Mitchell.
Keep up to date on the renovation's project here. We can't wait to show you more next summer.