Each year, AIA Louisiana's Conference on Architecture connects architects from across the state with riveting presentations and observations to galvanize our industry. The 2021 conference was delivered in a hybrid format, with virtual and in-person ways to connect. The Conference also celebrates newly licensed architects. Three cheers to our own Chris James and his wife Michelle, both of whom received their licenses this year. Read more about Chris here.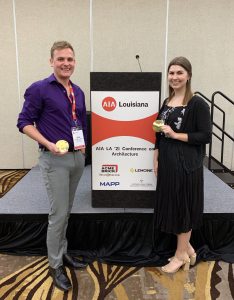 Tipton Associates principal and civic studio leader Shane Higdon was asked to moderate a panel on the lessons learned during Hurricane Laura recovery work. Shane served as project manager for Tipton Associates when our firm was one of seven selected to assist McNeese State University in rebounding from substantial damage across the entire campus.
The panel, which included Richard Rhoden from McNeese, Steve Losavio from State Facility Planning & Control, and Wayne Domingue from Architects Southwest, shared with the audience the experiences of the expedited work to bring McNeese back to life. We are honored to continue our work with McNeese in designing the replacement to Farrar Hall, home to the College of Education.
We also enjoy the opportunity to share our experience with different audiences, from our peers to our partners in higher education work. At the Society for College and University Planning's 2021 Southern Regional Conference, held October 3 – 5 at University of Tennessee Knoxville, Shane joined our Allison Marshall of Gensler and Roger Husser, LSU's Assistant Vice President of Planning, Design & Construction, to speak on the adaptive reuse of the Huey P. Long Field House, our ongoing project with RHH Architects and Gensler. Read more about our history with the Huey P. Long Field House, from planning to project, here.